FACIAL TREATMENTS @ UNIQUE

We are a dermalogica skin care centre.
Dermalogica skin care treatments:
Face Mapping: – The Dermalogica range is based on individual needs. This allows your skin therapist to personalise treatments specifically to you. Rather than analysing the skin in general terms face mapping divides the face into 14 distinct areas which enable the therapist to identify individual problems and needs and can recommend products to meet them.
The Face Treatment: – Your skin treatment is customised at every step using the Face Mapping programme. Your treatment is unique to you and varies on every visit.
DERMALOGICA SKINCARE TREATMENTS
Skin fitness analysis – combines analysis, lifestyle and treatment plan.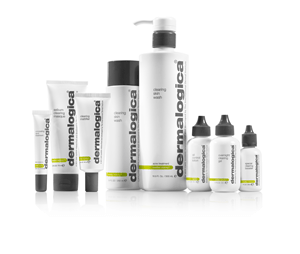 We offer 30 or 60 minute facial treatments in the following
Your journey towards clear skin starts here. Pore softening techniques, extractions, and anti-bacterial activities work together to clear and calm congested breakout-prone skin.
Fade dark spots and reveal brighter skin. This high-intensity treatment combines a brightening peel with electric infusion of professional-grade Vitamin C, Niacinamide and Hexylresorcinol – addressing all pigmentation concerns.
Soothe and strengthen sensitive skin. Soothing botanical actives provide relief while lymphatic drainage and press point massage help calm a stressed nervous system. Targeted treatments help hydrate, balance and restore the skin barrier for reduced sensitivity and calmer skin

A comprehensive workout for your face and neck. Firming and toning deep tissue facial massage are combined with retexturising and replenishing actives for tighter skin. 
Powerful treatment that helps tone, smooth and brighten the eye contour through intense stimulation and infusion of botanical actives.